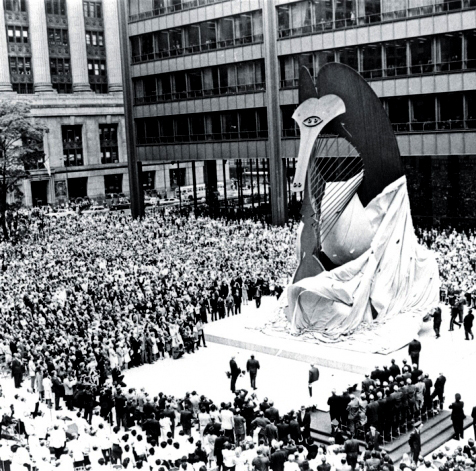 On August 15, 1967 – thousands attended the unveiling of Chicago's most monumental work of public art. The Chicago Symphony Orchestra was on hand to perform George Gershwin's symphonic poem, "An American in Paris." On the sidelines pickets denounced the event on the grounds of incomprehensibility.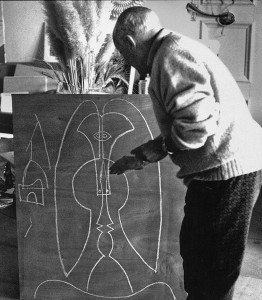 Chicago Mayor Daley pulled on a white ribbon and a billowing blue veil revealed Pablo Picasso's largest sculpture – 50 feet high, fabricated with 162 tons of steel. No one was sure what the sculpture was supposed to represent.
Some said it was a horse's head while others agued it was the head of Picasso's Afghan hound. The project's sponsors said it was the head of a women. To others it was an angel. Picasso himself remained mute on the topic. The work was untitled. It became known simply as "Chicago's Picasso."
Most public art in U.S. cities was calm and stoic, depicting historical figures in heroic poses. But in the 1960s, as modernism flourished in public architecture, sculptures were commissioned to complement the buildings.
Paul Weidlinger loved the enigmatic quality of Picasso's work and was proud of his contribution to its realization, making sure it would stand up to the "Windy City's" strongest gusts.
In this video people that worked with Paul Weidlinger tell the apocryphal story of how he divined the structural requirements for the huge steel sculpture. Finding music to go with the images of the sculpture itself was a conundrum… until I learned that An American in Paris was performed at the dedication.
The three short excerpts used here are from the recording made in 1949 with Leonard Bernstein conducting the RKO Symphony Orchestra. About the music the composer wrote: "My purpose here is to portray the impression of an American visitor in Paris as he strolls about the city and listens to various street noises and absorbs the… atmosphere." There is a bold, brash feeling to the music, which evokes a bustling metropolis. It is also idiosyncratic, like Picasso's work.
CHICAGO'S PICASSO from MOIRA PRODUCTIONS on Vimeo.