"Hungarians are the only people in Europe without racial and linguistic relatives in Europe, therefore they are the loneliest on the continent. This… perhaps explains the peculiar intensity of their existence… Hopeless solitude feed their creativity, the desire for achieving… To be Hungarian is a collective neurosis." – Arthur Koestler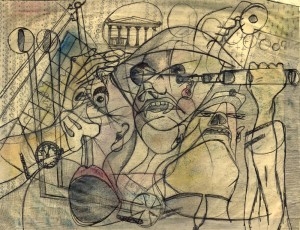 A number of Hungarian speakers responded to my request for feedback on the translation of the poem, The Ballad of the Invalids that Paul Weidlinger wrote as a teenager in 1932 (Posted in September as The Zombie Revolt).
Cary Plotkin, and old friend of Paul's, took it upon himself to consult with two translators and a professor of Finno-Ugric languages to come up with the new translation which is offered here. Thank you Cary!
Some of the differences in the new version are striking, resulting in a completely different interpretation. Even the title is changed. Ballad of The Sick replaces Ballad of the Invalids.
Hungarian & English