Jim Melchert and Sas Colby are among the six Bay Area artists who have contributed their work as rewards for donors in the RESTLESS HUNGARIAN FUNDING CAMPAIGN. Going live on January 16th, the goal of the 30-day campaign is to raise $50,000 to pay for the completion of principal photography, film editing, and completion of the book manuscript.
Every dollar you contribute during the campaign will be matched by Beacon Reader as part of its initiative supporting immigrants' stories.  (Beacon, our crowd-funding platform, is devoted exclusively to journalism projects.)
If you would like to own one of the works of art featured in this post be sure make your donation early, starting on January 16th, and claim it as yours.
This is the first of three posts featuring contributing artists and their work. Paul Weidlinger cherished his relationships with painters, sculptors, and creative architects, so, it's fitting that art works are among the rewards being offered.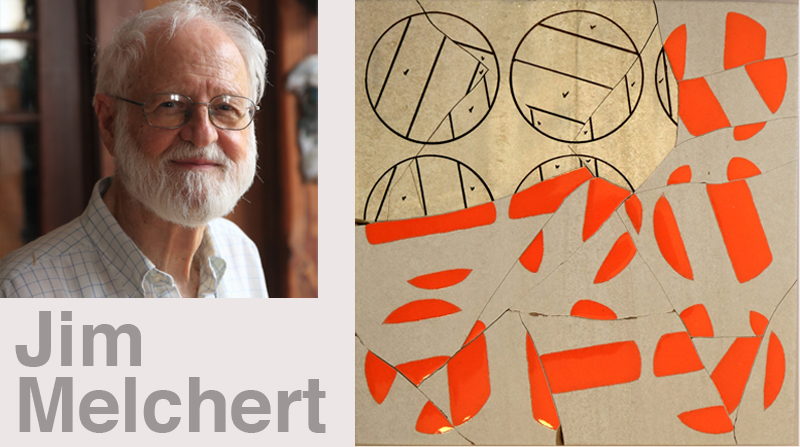 Jim Melchert believes the creative process is a dialogue between artist and materials.   Unpredictable things happen, and they mediate between the artist's intention and the physical reality of matter. Jim wraps 12-inch square Italian porcelain tiles in plastic sheeting and drops them on a concrete floor. He brushes portions of the resulting shards in glaze and sometimes adds his own painted lines. He makes marks with ink on some of the unglazed surfaces. He fires the glazed shards and then puts the tile back together, with the cracks now integral to the work.
Jim says he owes a debt to the composer John Cage, who used to throw I Ching coins to determine the duration, pitch, and loudness of notes. The unpredictable outcomes become a determining factor in the creation of the music. The way a tile will shatter when it is dropped on a concrete floor is not predictable, nor is it random; rather, the shards split off along invisible molecular fault lines. The shattering reveals the hidden inner properties of the tile. Jim draws an analogy to the formation of river beds: As water travels across a landscape it seeks the geological faultlines in the Earth's surface, carving its channel. Some of Jim's works look like landscapes seen from the air or, in one case, the New York City subway map.
The  donated works come from a series titled "Scores and Performances."
There is a correlation between the modernist ideas that Paul Weidlinger embraced as a young architect and Melchert's conceptual work. Modernism (see: Beauty, Art, and the Shape of Things to Come) rejected all styles as superficial embellishments, preferring to celebrate the intrinsic nature of materials: wood, stone, steel, and concrete.   Before Melchert started to break tiles he tried very briefly to work with them in a more conventional way. However, he soon understood that "the history of tiles is the history of repetition," from recurring motifs in a Roman bath to the stupendous, geometric sheets of mosque walls in Iran. "Once one commits to pattern repetition," Jim says, "it is like turning on a spigot that cannot be shut off." Melchert's broken tiles are a break with the past. Paul would have understood this perfectly.
From 1965 to 1992 Melchert taught sculpture at UC Berkeley. He has served as director of the American Academy in Rome, and as director of the Visual Arts Program at the National Endowment for the Arts in Washington, D.C. His work has been exhibited at the San Francisco Museum of Modern Art, the Oakland Museum of California, and the Victoria and Albert Museum in London. He has worked in a variety of media, including drawing and film, but is best known as a ceramicist with a long involvement in conceptual art.
---
Sas Colby was first inspired by images of the Buddha during a visit to Thailand in 2003. Over the next seven years she made three more trips, visiting dozens of Buddhist temples. Although she does not call herself a follower of any religion, the Buddha for her came to be a symbol of calm, wisdom, and compassion. "I had been looking for something to paint that was an image of significance that had a powerful meaning behind it." How does an artist avoid the clichés attached to such an icon? "I brought my own meaning to it," says Sas.
The lines are significant. For a long period that coincided with the loss of her second husband to cancer, Sas clipped headlines and images of war from newspapers. She painted them with a light gesso, blurring the image. Then she drew horizontal lines across the picture. These lines suggest the interference on old pre-digital television sets or a scene glimpsed through drawn blinds. They were also a way of distancing herself and the viewer from the anguish of the content. Two of her artist books from this period are titled Head Lines and Power Lines.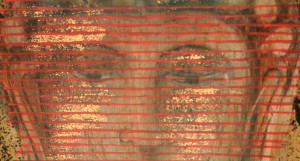 The practice of painting lines over everything persisted when Sas started working on her Buddha paintings, but their meaning underwent a subtle change.   They are no longer a protection against grim news but rather an evocation of the veil of reality that separates us from the numinous.
"The lines have a visual quality that I was looking for. The fluorescent paint I used is very different from the look of the old stone and wooden Buddhas which inspired the image. At the same time the lines are symbolic. They mediate between things… like the veil of illusion that we all see through."
Sas Colby is a painter, performance artist, printmaker, and teacher who is best known as a pioneer in the medium of unique artist books. A Brownie camera, a bunny, a Buddha, a Madonna… each is a recurring icon in her five decades of work. She was recently featured in Sisters of Invention: Forty-five Years of Book Art, a show at the San Francisco Center for the Book.
---
Live on January 16th
SAS COLBY "LINED BUDDHA" — Reward Level: $1,000
"Lined Buddha", 15" x 20" framed, mixed media; gold glitter and red fluorescent paint on an archive giclée print of a drawing made with pencil, ink, and shellac on gessoed archival paper. (One available.) International shipping: Add $100. DONATE and claim it as your reward.
JIM MELCHERT CERAMIC TILES — Reward Level: $2,000
Choose one of three works:  Each is a 12" x 12" ceramic tile mounted on a wood backing. Italian porcelain tile, glaze, and ink. U.S. shipping only. DONATE and claim one as your reward.  Notify tomweidlinger@gmail.com to specify your image choice immediately after pledging.