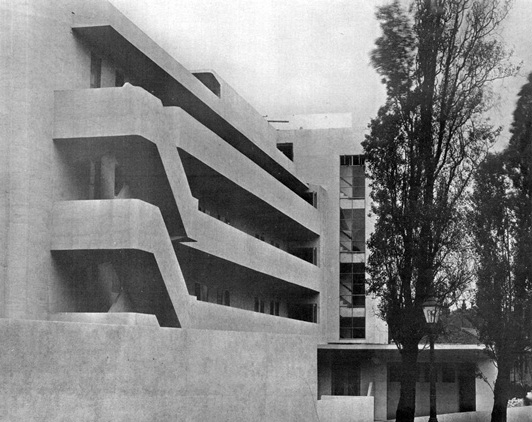 Last summer I put up a post, Paul and László Moholy-Nagy, in which Paul tells an anecdote about how he came to work for the famous Bauhaus designer. In 1936, at the age of 22, he had been in London, hunting for a job. After a month without success he mustered up his courage and spent his last pennies to visit Moholy Nagy.
Paul took the tube from his boarding house in Bedford Square, near the British Museum, to the Belsize Park station in Hampstead.   From there he walked to the building in which Moholy lived that looked "just like a giant ocean liner which ought to have a couple of funnels."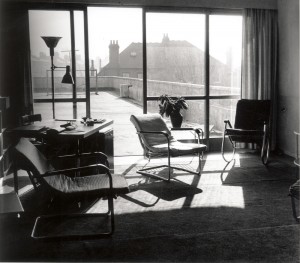 Lawn Road Flats, also known as the Isokon Building, was a four-story apartment block; the first residential structure in the United Kingdom to be built with reinforced concrete. Affordable minimalist apartments and studio flats came with built-in furniture.
In keeping with the sense of being on a ship, access to the living spaces is from exterior decks. The building had a laundry and a communal restaurant, amenities that were unusual at the time.
Lawn Road Flats occupies a significant place in the history of Modernist Architecture. It was also a home to spies, writers, artists and, unbeknownst to my father, two architects (in addition to Moholy) who would have a profound influence on his life.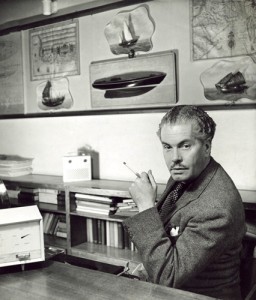 The building was designed by the Canadian architect Wells Coates and his partner, Jack Pritchard, who embraced the credo of Le Corbusier, the radical Swiss architect:   a house is a machine for living in.   In those days the word machine did not have a cold and impersonal connotation. Machines were beautiful in their efficiency. They were perfectly designed, without artifice or ornamentation, to serve the function for which they were intended. The same ought to apply to human dwellings.  Addressing the idea of function, Coates wrote passionately:
As young men we are concerned with a Future, which must be planned rather than a Past, patched up, at all costs. As architects of…the new order, we are not so much concerned with the formal problems of style as with the architectural solution of the social and economic problems of today.
Architectural styles, especially those that were decorative or historical such as neo-classical, neo-renaissance, neo-baroque, art nouveau, etc. were to be avoided.   Or to put it more succinctly, in the words of Le Corbusier: Styles are a lie. In Modernism there was no room for the conceits, decorations, artifacts and artifices of the past. Furthermore, in Well's view a most fundamental aspect of Modernism was the replacement of natural materials by "scientific" ones, and more particularly steel and concrete construction.
Not everyone agreed. An early critic of the Isokon building wrote that it was "efficient and cheap, but ugly… Concrete is soulless, colorless and repulsive. Let us not make England a country of concrete cubes."
To others concrete was beautiful.   Part of the Modernist ethos was a respect for the intrinsic characteristics of materials; to let those characteristics "speak" in a structure's design.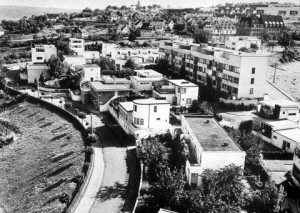 A seminal experience for Coates and Pritchard had been their pilgrimage to Deutscher Werkbund, a 1927 exhibition of residential buildings in Stuttgart, designed by a dozen of Europe's leading Modernist architects, including Le Corbusier.
The curator of the exhibition was the architect, Mies van der Rohe who wrote:
The first step is… the simple fact of the material. The second step is to understand the meaning of one material, and the meaning of all materials. The third step is to understand the materials' characteristics of our time – steel, concrete, and glass. The forth step is to understand the needs of our epoch: the need to provide mass amounts of shelter (the mass need) and the need to make each man free (the individual human need.)
It's clear that for these Modernists architecture was not simply about design. It was a philosophy, a value system, a political conviction, a way of looking at and solving the problems of the world. When Coates and Pritchard formed Wells Coates and Partners, Ltd. they declared their own principals by which they would be guided. Among them were:
The company is opposed to the promotion of … extravagance, whether in building or in the habits of life.

Design should be based on the principal of conspicuous economy as opposed to conspicuous waste.

Decoration is desecration.

Solemnity, sincerity, sobriety, gaiety… all may characterize architecture but humanity will best love creative work characterized by joy.
Lawn Road Flats stands as a manifestation of this philosophy.
On July 9th, 1934 the building was christened, just like an ocean liner, with a bottle of champagne dashed against its concrete hull. But people did not immediately flock to sign up for a flat.   Nothing like it had been built before. It took a while to get used to this Modernist idea. Those who were drawn to live here were creative people, Henry Moore (sculptor), Nicholas Montserrat (writer), Egon Riss (architect), Charles Brasch (poet), and, most famous, Agatha Christie the crime writer. They were joined by refugees from Hitler's Germany and at least nine persons who were later revealed as espionage agents. Among the latter was Arnold Deutsch the Soviet NKVD agent who was the handler for Kim Philby, Anthony Blunt, Guy Burgess; men recruited at Cambridge to spy for the Soviet Union.
Among the refugees from the Nazis living in Lawn Road Flats in 1936, when my father knocked on Moholy's door, were Walter Gropius, architect and founder of the Bauhaus movement, and Marcel Breuer, the Hungarian architect and furniture designer. Much later Breuer became a friend and neighbor of Paul's as wall as a colleague. (See post Two Churches by Breuer, which Paul contributed to as a structural engineer.) In the 1950s Gropius, as the head of The Architect's Collaborative in Cambridge, Massachusetts, commissioned Weidlinger Associates to do the engineering for Bagdad University as well as several schools in North Africa sponsored by the United States Agency for International Development.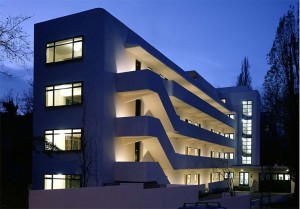 After being abandoned and falling into dereliction for several years the Isokon Building was rescued by the Notting Hill Housing Association and restored by an architectural firm specializing in the refurbishment of Modernist buildings. In July 2014 the Isokon Gallery was opened to tell the history of the building, it creators, and its illustrious tenants.
Informative videos can be found on the gallery website.
Quotes and facts for this post were taken from the beautifully written book by David Burke, The Lawn Road Flats; Spies, Writers, and Artists. (Boydell Press, 2014)