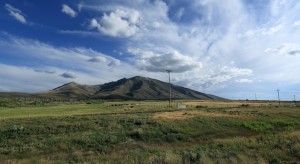 This post is a bit off-topic.  It's not about Paul Weidlinger although I think he would have appreciated the discourse.
It is the first day of my cross-country pilgrimage to visit the buildings he engineered. I drove 550 miles and ran out of gas in the middle of nowhere, in the shadow of a verdant mountain in eastern Nevada.  I never run out of gas!  But this time I did because I was so engrossed in a story, a Moth Podcast, told by Christof Koch, a neuroscientist wondering about the Death of God and the neural basis of consciousness.  Koch describes his relationship with Francis Crick, the man who discovered the DNA helix.  Crick's contemplation of his own impending death makes a deep impression on his young friend and protégé.
I think that running out of gas is the best possible endorsement I could give for this. It is the best of several podcasts I listened to while crossing the Nevada and Utah deserts.  Here it is.
http://themoth.org/posts/stories/god-death-and-francis-crick
In the end it turned out to be a lovely day.  I waited in this beautiful place for a hour while someone brought me gasoline and had deep thoughts about Koch, Crick, God and the nature of consciousness.